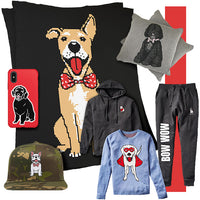 How it Works
Choose a product type (sweater, hoodie, lounge pants). Choose a design. Choose a color. Upload a photo of your dog, check out, and we'll get to work.
Get Started
FAQ's
What type of photo should I send?
Any photo of your dog is acceptable, however, if you want to make sure we see all of the unique aspects of your dog please make sure it's a clear photo.
Can I review the art work?
Yes, we can let you review the artwork. We will reach out to you after our designers have finished and will let you give us your feedback. Your happiness is our happiness.
As all items are custom made, we ask that you give us 3 - 4 weeks to make and ship your order. All items are shipped USPS priority mailing and arrive within 3 - 5 business days.
Can you do expedite orders?
Unfortunately not as all items are custom made.
What is your return policy?
As every garment we make is made to order for each customer, we are unable to offer returns.
Are there any limitations?
Currently, our designs are limited to only four colors for the entire sweater. This is due to the knitting machines that we use. We will work with you to help pick the best four colors but please be mindful to our limitations.
With some dogs, we need to change background colors due to the design you choose. We do our best but please pay attention to our proofs. The background color of your proof is the body color of your sweater.
Do you ship internationally?
Yes, we do. You can choose your shipping method when you check out. However, please note we do not add in duties, therefore it is your responsibility to hand the duties.